Video Links and Handouts
The Brain and Trauma
Abuse in the Church
Child Development and Warning Signs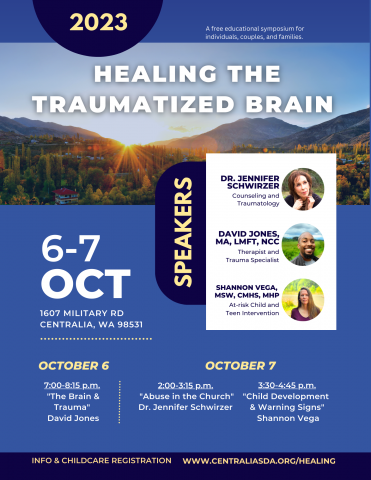 ABOUT THE SYMPOSIUM
This free symposium aims to provide educational support to individuals, couples, and families seeking insight in their journey toward restoration.
ABOUT THE SPEAKERS
Dr. Jennifer Schwirzer is an author, speaker, TV host, professional counselor, musician, wife, mother, lover of Jesus, and a friend to many. Jennifer has a Master's degree in Mental Health Counseling from Capella University, and a doctoral degree in community counseling and traumatology from Liberty University. She has spoken all over the world, written 14 books, and hosted two TV programs. She loves to communicate about the fascinating intersection between theology and psychology, and does so whenever, and however, she gets a chance.
David Jones has a Master's degree in Counseling and Education Psychology, Marriage, Couple, and Family Therapy and is a PhD candidate. He has worked in the mental health field for over 15 years and has specialized training in: Bowen Family Systems Therapy, Cognitive Behavioral Therapy (CBT) and Rational Emotive Behavioral Therapy (REBT), Dialectic Behavioral Therapy (DBT), Emotionally Focused Therapy (EFT), Eye Movement Desensitization and Reprocessing Therapy (EMDR) and other trauma treatment protocols. He currently owns and operates a private practice in Chehalis, WA.
Shannon Vega has twenty years of experience in the mental health field, beginning with at-risk youth. She created and implemented programs for treatment-level youth, ages 3-17. She served as the Interim Executive Director at a group home for young, homeless, and pregnant women. She is trained and certified in CBT Plus for trauma, anxiety, depression, and for children who have Autism Spectrum Disorder with trauma.